Welcome to our doctor's office
Your medical proffessional team Dres. Werringloer offers you family medicine, naturopathy, osteopathy and travel medicine right in the heart of Herrenberg.

"The purpose of human life ist o serve, and to show compassion and the will to help others."
Albert Schweitzer (1875-1965)

Our practice philosophy is to view and treat people holistically and to support them in their physical and psychological well-being. Our mission and guiding principle is to assist people in their search for better physical and mental health. We offer support in all aspects of life whether this may be nutrition, physical fitness or psychological outlook on life. We aim to prevent diseases through medical checkup's instead of having to cure them. Trough this approach we can arrange comprehensive medical care. We would like to help create a balance by harmonizing conventional and traditional medicine.


Designing our medical practice we placed a strong emphasis on a friendly and warm atmosphere.

Being academic training practice associated to the Eberhard Karls University of Tübingen we display a network of qualified partners for your health.
IHR ÄRZTETEAM
Dr. Gunver Werringloer
Specialist in General Medicine

Teaching doctor of the University of Tübingen
Additional titles: Naturopathy, Sports Medicine, Acupuncture
Focus of Activity: WHO-Official Vaccination Centre against Yellow Fever, Travel Medicine , Diving Medicine (GTÜM e.V.), Nutritional Medicine (DGEM e.V.)
Dr. Gunver Werringloer was born in Freiburg i. Breisgau in southern Germany. Her family then moved to Dallas, Tx. USA, where she spent ten years of her youth. Therefore she speaks English fluently. After school she decided to study medicine and completed her studies May 1999 in Marburg, Germany. To build a solid foundation for her professional career as a specialist for general medicine she completed her medical training in the fields of internal medicine and surgery and successfully passed her specialist examination on the 3rd of March 2003. Two years later Dr. Gunver Werringloer decided to join her mother and brother in their joint office.
Since then she has completed several specialized trainings and aquired additional titles to further develope her skills such as trainings in naturopathy, sports medicine and acupuncture. Furthermore Dr. Gunver Werringloer has completed professional trainings in the field of nutritional medicine (DGEM e.V.) and being an experienced diver and freediver herself also in the field of diving medicine (GTÜM e.V.)
Besides working full time in her medical practice Dr. Gunver Werringloer completed a doctorate on the subject of: "The handling of corpses in the 18th century. The case of Christiane Ruthardt and the institute of anatomy in Tübingen." This doctorate was a awarded magna cum laude (very good) by the University of Tübingen.
Dr. Gunver Werringloer invests alot of heart and soul into her volunteer work in the field of disaster medicine. She is the thrid chairwoman of
Projekt Burma e. V.
, a German NGO that works for the poorest of the poor in Burma (Asia) and has been on several international deployments for the organization LandsAid e.V. in countries like Kenya/Somaliland, Burkina-Faso, Philippines and Nepal. Through her extensive experience as a
international medical aid worker
Dr. Gunver Werringloer can offer individual consultation e.g. to backpackers, trekking tourists scuba divers humanitarian aid workers and business travelers.
Due to her established competence in the field of travel medicine your treating physician Dr. med. Gunver Werringloer has been recognized by the Ministry of Health as an accredited center fort the administration of the yellow fever vaccine.
Her sideline activities also involve her training organization
planP GbR
that has set itself the objective of actively training international aid workers for foreign assignments.
"The handling of corpses in the 18th century. The case of Christiane Ruthardt and the institute of anatomy in Tübingen."

This paper investigtes the extraordinary events during the transport of Christiane Ruthardts corpse to the institute of anatomy in Tübingen. She had been publicly excecuted through the sword on the 27th of June 1845 in Stuttgart, Feuerbacher Heide, after having been found guilty of murdering her husband. During the transfer of her corpse to the institute of anatomy her body was maltreated twice by curious bystanders. The aim of this investigation, in addition to reviewing the human and legal consequences – in particular concerning the death penalty – is to look deeper into the different motifs for this unusual behaviour and analyze the implications for the institute of anatomy in Tübingen. This study is based on the printed and handwritten sources concerning this murder case. The most important printed sources were the contemporary press and their special editions. The sources of vital importance for this paper however were the handwritten original sources of the state archive in Stuttgart, the state archive in Ludwigsburg and the university archive Tübingen. The files stored here were particularly revealing.

Dr. Richard Werringloer
Specialist in general medicine

Dr. Richard Werringloer (born August 8th. 1969) studied medicine at the Justus Liebig University of Gießen (Medical Exam May 25th. 1998) and received his title as doctor of medicine for his theses on: "The neurological and psychosocial development of children with hydrocephalus and the coping strategies within their families" (December 12th 1999). After his medical studies in Gießen he worked in the department of internal medicine at the Balserische Stiftung in Gießen as well as in the department of surgery of the city hospital of Idstein and in the ears, nose and throat office of Dr. Friese (Weil der Stadt) before finishing his specialization as a general practitioner in his mothers office (Dr. Margarete Werringloer ). After absolving his exam as general practitioner (July 19th.2001) he then joined the family office.
During the following years Dr Werringloer acquired further KV BW accredited specialities in natural medicine, chirotherapy and psychotherapy and enlarged his spectrum of treatment through courses in osteopathy, acupuncture, homeopathy and kinesiology. Because of the time he had spent in the united states during his youth and his the various periods of practical instruction he had taken in different european countries during his studies he speaks fluent English, Italian, French and Spanish.
team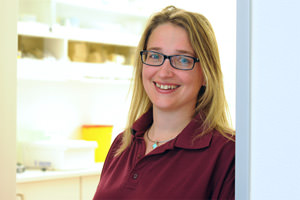 Tanja Laupitz (Senior Medical Assistant)
Anneliese Koch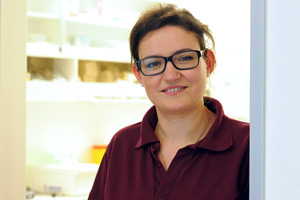 Elfate Saraci
Sophia Bashir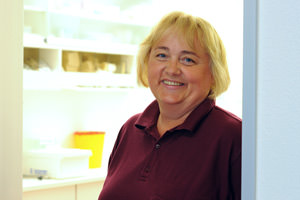 Klaudia Strzalka